Superior Systemic Enzyme Blend… Simple Solution to Cardiovascular Health
Cardiovascular Disease (CVD) is the nation's leading killer for both men and women. Almost 42% of American deaths each year are from CVD, which adds up to almost 1 million deaths per year. Studies reveal that CVD is even on the rise for both sexes between the ages of 35 and 55. Now is the time to be proactive in countering CVD.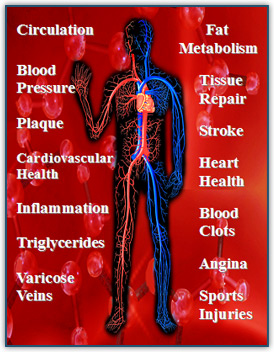 Why Allegany's Systemic Enzyme?
The Natto-LP contains the most potent form of nattokinase on the market. The Natto-LP is formulated to work synergistically with the body to assist in a wide range of cardiovascular imbalances. Unlike some approaches to cardiovascular health, our systemic enzyme attacks the underlying imbalances instead of the symptoms. Our enzymes are produced in an Organically Certified facility that is FDA inspected. Our product contains no fillers, yeast, dairy, wheat, soy, gluten or corn and is free of artificial colors, flavors, and preservatives. We use the highest quality raw materials to produce superior results.
We don't formulate proprietary blends to conceal the amounts of ingredients in our products. We want our customers to know exactly what they are getting, not guessing. We want you to be able to compare our products to others if you want. All ingredients are clearly listed on the bottle using the latest units of activity based on the Food Chemical Codex (FCC), Academy of Sciences and accepted by the American Food Industry.
The Natto-LP contains 6 enzymes other than Nattokinase. The purpose of these other enzymes is to help cleanse the body of undigested particles. The most important of these other 6 enzymes is protease, lipase, and peptidase. No other product on the market contains as much protease, lipase, and peptidase in a systemic enzyme formulation. Nattokinase should always be taken with systemic enzymes to help increase the effectiveness of the product.